Stefanie Ebelt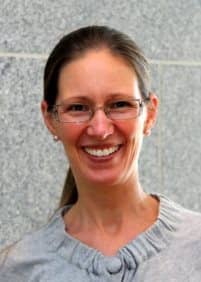 Emory University, Atlanta, Georgia
Dr. Ebelt is Associate Professor of Environmental Health at the Rollins School of Public Health of Emory University. Her epidemiological research focuses on examining health effects of ambient air quality using population- and panel-based approaches. She leads large-scale time-series studies of ambient air quality and acute morbidity, using emergency department visit data as an indicator of population health. Dr. Ebelt's work on these studies focuses on assessment of ambient air pollution mixtures and metrics of extreme heat, examination of the impacts of exposure measurement error on observed epidemiological findings and assessing exposure and population factors that may modify health risk. Her studies also include prospective panel-based designs, using detailed field investigation methods to further understand environmental exposure factors and health effects among susceptible and vulnerable populations. She has published extensively in the peer-reviewed literature and has frequently been asked to speak on exposure and epidemiological topics.
Dr. Ebelt is a member of the International Society for Environmental Epidemiology, an editorial board member at Epidemiology, and an associate editor at the Journal of Exposure Science and Environmental Epidemiology. Dr. Ebelt participated on the National Research Council's Committee on Urban Meteorology: Scoping the Problem, Defining the Need and the Health Effects Institute's Review Panel on Ultrafine Particles. She has participated as an expert reviewer of drafts of the U.S. Environmental Protection Agency Integrated Science Assessments for particulate matter and nitrogen oxides. She serves as the Point of Contact for Emory University as an observer organization in the United Nations Framework Convention on Climate Change process. Dr. Ebelt has been honored with several awards, most recently the Department of Environmental Health Teaching Award at Emory University and a Supporting Paper for a Level III U.S. Environmental Protection Agency Scientific and Technological Achievement Award.
Dr. Ebelt holds a B.Sc. in Microbiology and Immunology and a M.Sc. in Occupational Hygiene from the University of British Columbia and a Sc.D. in Environmental Health from the Harvard School of Public Health.